We are Anderson Turf Management
A division of Charles Anderson Lawn Care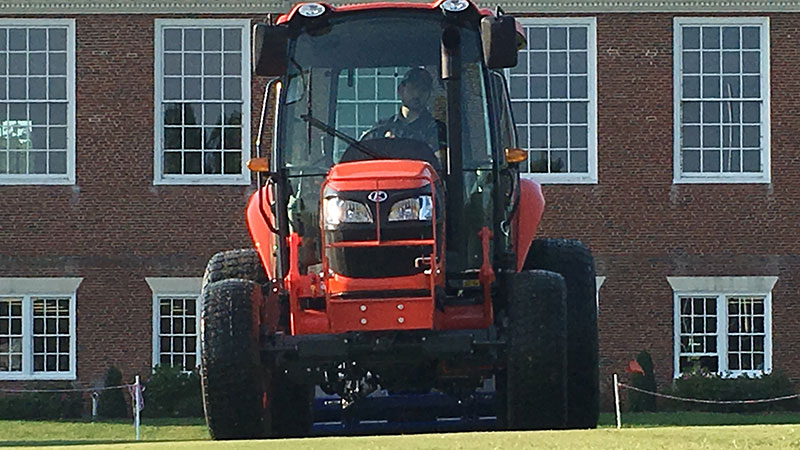 Anderson Turf Management is a division of Charles Anderson Lawn Care Service, Inc. Anderson Turf Management was founded because of the passion for sports and the green industry. We offer specialized services in sports turf and golf course maintenance within the Piedmont areas of Virginia and North Carolina. Our company focuses on the interest of the customer and strives to provide solutions that are both, satisfying and award-winning. Our state of the art technology has allowed us to achieve our desired results that every greens professional is seeking after. Anderson Turf Management's goal is not simply to be a contractor, but rather cultivate personal relationships and be considered team members to our clients' organization. With a combined 35 years of professional experience and knowledge in turfgrass management, we offer data drive, sustainable, achievable and economical results within our profession.
Mission Statement
To always provide the highest quality work to our client, delivered with a professional attitude, always working to improve every job site in a safe, and an energetic work environment.
---
Meet Bruce Anderson
President & Founder
Bruce was born and raised in Halifax County where he graduated from Halifax County High School. He now holds a Class A Contractors License, is a Registered Pesticide Technician, and obtained an Associate Degree in Criminal Justice. He was given the great opportunity to work in the family business that his father and grandmother started in 1983. There, he learned to work hard and develop skills of leadership and attention to detail.
Bruce joined the Charles Anderson Lawn Care Service, Inc. team in 2004 and works hard every day to improve and manage the business. He's dedicated many hours to supervising, learning, maintaining a stable environment, and implementing a company culture that attracts top talent. One thing Bruce loves about this job is feeling extremely blessed to make a living outdoors, while improving the scenery along the way.
Bruce is married to his wife Erin and they have a Yellow Lab named Bailey. In his free time, Bruce enjoys spending time with his family, as well as hunting and racing.
---
Meet Jon Hall
Co-Founder
Jon has an AAS in Turfgrass Management from Wayne Community College and over a decade of experience in the sports turf industry. His career began his senior year in high school where he assisted with daily maintenance activities of the baseball field while playing. While serving with several minor league teams, he has been given the opportunity to assist and win several accolades, one which is National Sports Turf Manager of the Year, Short Season through minor league baseball while in Danville. Jon also served at Hampden Sydney College where he managed 25 acres of NCAA Division III sports. One quality he has is the passion for the green and sports industry. This passion is the reason the company was formed to help assist sports turf managers and golf course superintendents achieve safe and sustainable playing conditions. When he is not digging around the turf canopy, he enjoys the outdoor activities, gardening, and spending time with his wife Blair and three children.